10.04.2013
Freight and Mail drop by 7.8%, in March
In Portuguese Airports In March, air freight and mail processed at the airports of the ANA group has decreased by 7.8% (- 883 tons) when compared to the same period of 2012. In annual terms, there was a decrease of approximately 1589 tons (-4.8%).
In the course of the month, loaded freight has decreased by 7.2% (-437 tons), unloaded freight dropped by 10.4%, and in transit freight rose by 5.8% (+42 tons).
 
As far as individual airports are concerned, the decrease in air freight at Lisbon Airport (-6.1%), in spite of a rise in traffic with Brazil and Dubai, can be credited to the drop in traffic with the Portuguese Islands, Europe and Angola.
Porto Airport exhibits the biggest decrease (-12.8%) what is mainly due to the drop in integrator traffic, where a decrease of 281 tons was registered.
Air freight evolution in the airports operated by ANA in the Autonomous Regions of Azores and Madeira has also shown a decrease trend, the exception being airports benefiting from in-transit freight, such as Santa Maria, where the 497% rise is due to the increase of in-transit air freight from other regions of the world (+1892%), given that local freight processed at this airport has also decreased (-11.9%).
 In terms of flight type, freight moved in express cargo aircraft has decreased 13.5%, while that transported in passenger aircraft has risen 1.4% and in other cargo aircraft (mostly charter flights) has dropped by 46.9%.
As for markets, in February, the airports of the ANA group have served 112 regular air freight destinations. In terms of individual countries, The United Arab Emirates (+436 tons), the USA (+60 tons) and Brazil (+51 tons) should be mentioned as those exhibiting the biggest rises in traffic.
On the decrease side of the scale, the German market (-546 tons), internal traffic - with the Portuguese Islands, in particular - (-322 tons) and the Angolan Market (exhibiting a decreasing trend since last December) with a drop of - 156 tons, are of note.
As regards Airlines, those that exhibit the biggest increases are those that only began to operate their scheduled services at a date later in time  than the month that was used as a comparison basis (Mar-12, with Emirates processing +436 tons and West Air Europe (air freight operation to Madeira) +394 tons.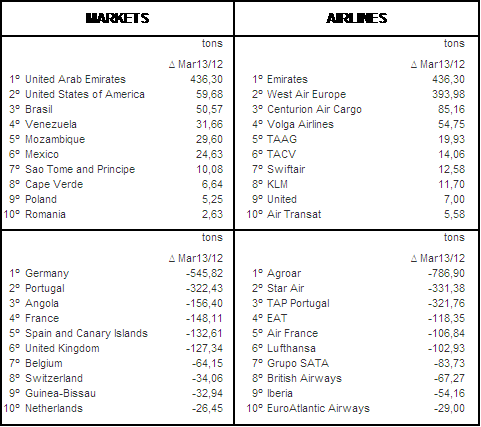 Agroar was the airline credited with the biggest decline in traffic, given that it is not currently operating (it operated freight routes last year with Madeira and Nouakchott, in Mauritania), followed by Star Air, an operator for UPS, with a decrease of 331 tons. Airlines operating European routes (Euro zone) in general were also affected by a decline in traffic, as illustrated above.
Regarding air freight trucking, 2.9 thousand tons (+0.2 tons) were processed, what represents a year on year percentage change of 7.8%. 
In March, the airports of the ANA group have thus processed 15.1thousand tons of air freight and mail, for an aggregated total of 42,1thousand tons (air freight trucking considered for both totals).