Getting to and from the Airport
Cruise Terminal
Your cruise holiday starts or finishes here
Located just over eight kilometres from Lisbon Airport, the New Cruise Terminal is becoming increasingly popular as more and more cruisers choose to start and end their cruise holidays in Lisbon.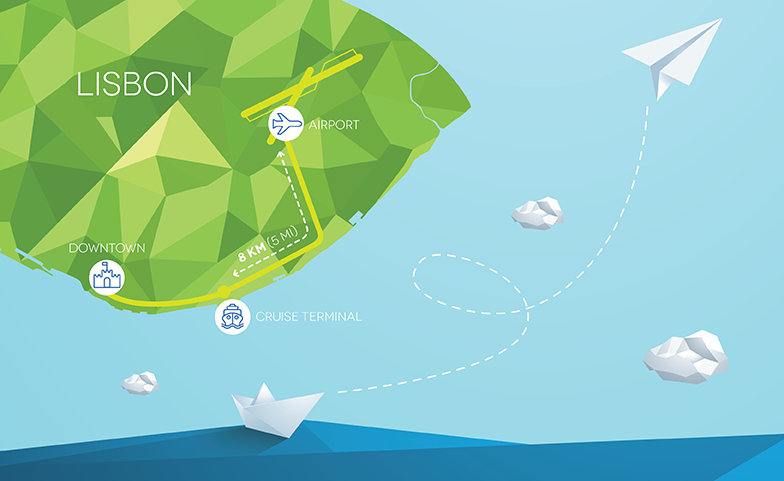 If you are arriving to Lisbon by air

Follow the signs in the airport to baggage claim. Once you have collected your bags, head out to the arrivals hall where, if your cruise package includes a meet-and-greet option, you will find someone waiting to meet you and put you on your transfer to the Cruise Terminal.

If you wish, you can request the airport's Porterage Service, and your baggage will be taken from the plane to your car, taxi or coach.

If you prefer to use public transportation you can explore all of the different options available here.

If you are departing from Lisbon by air

Find out if your airline* is one of those offering self-check-in at the kiosks in the Cruise Terminal. These machines let you print your boarding pass and bag tags so that all you need to do when you get to the airport is go to a baggage drop-off desk and then you can relax and head off to the departure area.

If your flight is not until later in the day, you could consider booking a baggage transfer service who would take your bags straight from the cruise terminal to the airport for you, allowing you to enjoy the delights of the city before your flight. Check out here.

In addition to this facilities, you could also opt for the Fast Track service, which speeds you through the security control, giving you more time to enjoy the vast range of shops and restaurants before your flight.

* Air Canada, Air France, American Airlines, Brussels Airlines, Delta Airlines, Iberia, KLM, Lufthansa, Royal Air Maroc, TAAG, TAP Portugal, Turkish Airlines and United Airlines.
Contacts
Lisbon Airport
Nice trips