ANA
About ANA
ANA is responsible for managing 10 airports in mainland Portugal (Lisbon, Oporto, Faro and Beja Civilian Terminal), in the Azores (Ponta Delgada, Horta, Santa Maria and Flores) and in Madeira (Madeira e Porto Santo).
Focused on innovation and efficiency, we work on a daily basis to provide our visitors - 55.7 million in 2022 - with a unique experience and the best services.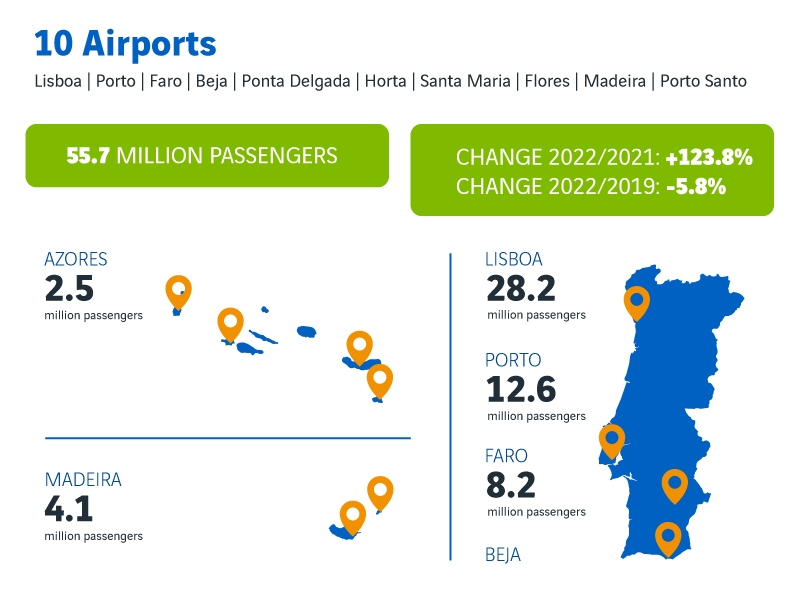 In September 2013 we integrated VINCI Airports.
VINCI Airports manages a wide network of airports worldwide, assuring the development and commercial utilisation of 72 airports: 12 in France, 10 in Portugal, 3 in Cambodia, 1 in Chile, 3 in Japan, 6 in the Dominican Republic, 8 in Brazil, 1 in Costa Rica, 1 in Serbia, 2 in United Kingdom, 5 in United States of America, 13 in Mexico and 7 in Cape Verde.
As a global integrator with extensive expertise, VINCI Airports develops, finances, builds and runs airports. It also uses its investment capacity, its international network and its know-how to optimise management of existing platforms, for expansion projects or to build airport infrastructures from scratch. Learn more about VINCI Airports
Corporate
ANA - Aeroportos de Portugal