Press
20.12.2017
Madeira Airport surpasses the 3 Million passenger mark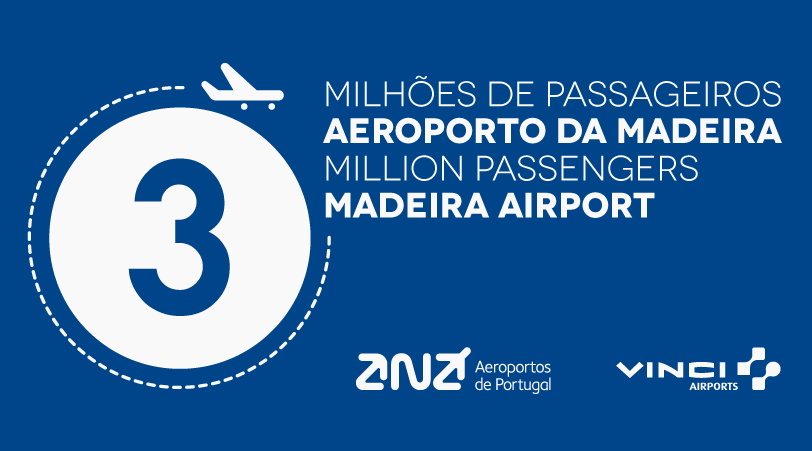 Madeira Airport has reached, for the first time ever, the 3 million passenger per year milestone.
With constant growth in the last 4 years, Madeira Airport surpasses the growth of previous years in 2017 and closes with a record of over 3 million passengers processed.
With this new record, Madeira Airport reaffirms it international airport positioning, with more that 55% of its passengers falling into the international passenger category.
The United Kingdom and Germany continue to be the main emitting markets for the Madeira destination, but Poland, Switzerland, and Denmark, all of them showing a clear positive evolution, were important levers for this year's growth. In 2017, Madeira Airport was connected to 71 airports, with 50 operators.
The reinforcement and reprofiling of Madeira Airport's runway, the remodeling of levels 2 and 3 of the passenger terminal that took place, namely that of the entire commercial area, and the ongoing and ever present investments in the accessibilities both inside and outside the terminal, are examples of large investments that ANA/VINCI Airports made at Madeira Airport, allowing its passengers to enjoy a more modern and functional infrastructure. These improvements have allowed a more complete offer and better service to the passenger, as evidenced by the quality of service studies of Airport users.
The event that was organized today, 20, December, to celebrate this historic milestone was attended by His Excellency the President of Madeira's Regional Government, Miguel Machado de Albuquerque, and by ANA's CEO, Carlos Lacerda, who stated that this "was an historic milestone for a Region that in spite of having been receiving tourists for quite a long time, knew how to adapt itself to the evolution of Tourism and that enjoys full and constant connectivity with a dynamic Airport, which too has been preparing to cope with this growth and which seeks its best identity in the diversity of connections and operating airlines that it offers. It should be noted that, since 2014, the year of ANA's privatization and integration into the VINCI Airports network, we have had here at Funchal, 11 new destinations, 12 new routes and 9 new airlines. We acknowledge our responsibility in the development of tourism and we will do all needed to ensure that the airport will continue to be, ever more so, a facilitator of increased economic value and employment in the Autonomous Region of Madeira".
During the event it was also made public the fact that ANA Aeroportos de Portugal and VINCI Airports will be partners of Startup Madeira, for the "Startup Retreat". This is an initiative of Startup Madeira, that will take place in the first quarter of 2018. This acceleration program is sponsored by Turismo de Portugal within the scope of the FIT (Fostering Innovation in Tourism), and will also have the partnership of the Regional Government of Madeira.
ANA/VINCI Airports celebrated this festive occasion inviting its employees and all the airport community to celebrate together in an event where the efforts of all the partners that made this framework possible were recognized.