Airlines
Service Quality
Service Quality is one of our main concerns and we work day after day in order to improve your experience at our airports.
To put this into practise we evaluate all quality standards according to the international programme Airport Service Quality Survey (ASQsurvey) by Airport Council International (ACI).
This evaluation annually includes more than 270 airports worldwide and about 500 thousand passenger inquiries and it intends to monitor our passengers' satisfaction, since this information is essential for us to guarantee the continuous improvement of airport activities.
Airport Procedures are also a priority for us, and by analysing the performance of the different airport activities and supporting improvement actions, we monitor different parameters in the framework of ANA's Concession Agreement:
• Waiting time during safety and passport control procedures;
• Time spent collecting your luggage on arrival;
• Availability of airport infrastructures (runways, aircraft stands, equipment for special assistance, amongst others).
For more information please send an email to: aviationmarketing@ana.pt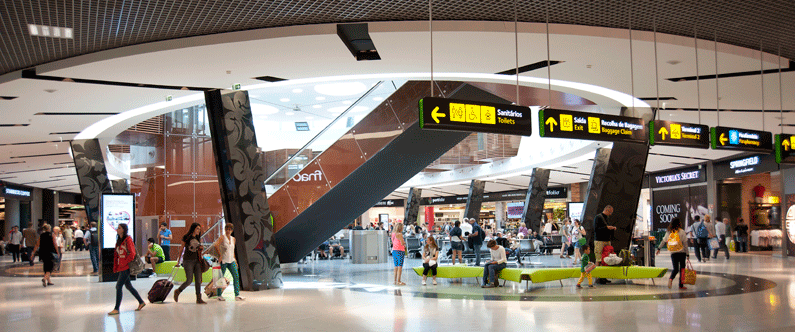 Payment by ANA of the penalties incurred under the Airport Service Quality of Regime (ASQR), from 2016

In the context of what is foreseen in Annex 7 of the Concession Agreement, pertaining to the Airport Service Quality Regime "ASQR", ANA is subject to financial penalties in case of non-compliance with the established minimum service levels, pertaining to the infrastructure availability and passenger satisfaction indicators.

During 2016, fourteen non-compliances occurred on indicators subject to to financial penalties, ten of them related to the Arrivals Baggage Delivery Process – 1st Bag, at Lisbon, Porto, Faro and Ponta Delgada Airports, one related to the Arrivals Baggage Delivery Process – Last Bag, at Ponta Delgada Airport and three related to the Passenger and Baggage Security Process, at Lisbon Airport.

Despite the abovementioned non-compliances, ANA wishes to stress that these were isolated in time and that occurred in a context of high passenger and movement growth within the ANA airport network, including the airports under the Concession Agreement's scope, in 2016 (+14,2% commercial passenger growth compared to 2015 at the network level), which lead to higher levels of demand pressure upon the infrastructure and corresponding quality of service levels.

It should be mentioned that the indicators relating to the Arrivals Baggage Delivery Process which compose the bulk of the non-compliances, result from the performance of processes under the majority responsibility of the Handlers, and ANA has a reduced influence on the achieved service levels. Because of this, ANA has been working with these entities to promote quality of service improvements to passengers.

With regards to the Passenger and Baggage Security Process at Lisbon Airport, ANA is currently preparing investments that will allow for an optimization of the processing of both passengers and hand baggage.

ANA sees airport quality of service, where the ASQR is included, and its adaptation to the needs of the different airline and passenger segments, as a key airport competitiveness factor. Because of that, ANA's strategy in terms of quality of service will continue to focus on systematically monitoring and analyzing the performance indicators and designing service solutions which are adequate for increasing the value proposition to airlines, passengers and business partners.

Following the validation by ANAC of the methodology for calculating penalties from 2016, ANA has assessed the individual amounts of airline in the proportion of regulated revenues amounts at each airport in each of the quarters, in accordance with Annex 7, Point 10.

In order to operationalize this return, the following procedures will be applied:

• Publication on the ANA website of all clients with funds to be received by the airport;

• The credit notes will be, like the billing process, carried out by each airport, and at that level, per client;

• In the case of clients with a current account, the credit notes will be reduced to the account balance of each client;

• There is the possibility of cash reimbursement in the company's treasury for cash clients;

• After a period of one year from the date of publication of the return, ANA will report to ANAC the clients who do not claim the credit, and the respective amounts;

• A minimum return value of € 100 is foreseen in the case of a bank transfer option. In the case of a bank transfer, the costs of the transfer shall be borne by the beneficiary.

 

Please consult the published list of clients for of Lisbon, Porto, Faro and Ponta Delgada airports.


Airlines with amounts to receive ASQR 2016 - Lisbon Airport



Airlines with amounts to receive ASQR 2016 - Porto Airport



Airlines with amounts to receive ASQR 2016 - Faro Airport



Airlines with amounts to receive ASQR 2016 - Ponta Delgada Airport


 

 

Payment by ANA of the penalties incurred under the Airport Service Quality of Regime (ASQR), from 2015

In the context of what is foreseen in Annex 7 of the Concession Agreement, pertaining to the Airport Service Quality Regime "ASQR", ANA is subject to financial penalties in case of non-compliance with the established minimum service levels, pertaining to the infrastructure availability and passenger satisfaction indicators.

In this framework, six non-compliances have occurred in 2015, related to indicators which are subject to financial penalties, all corresponding to the Arrivals Baggage Delivery Process – 1st Bag at Lisbon, Porto and Ponta Delgada airports.

Despite the abovementioned non-compliances, ANA wishes to stress that these were isolated in time and that occurred in a context of high passenger and movement growth within the ANA airport network, including the airports under the Concession Agreement's scope, in 2015 (+11% commercial passenger growth compared to 2014 at the network level), which lead to higher levels of demand pressure upon the infrastructure and corresponding quality of service levels.

It should be mentioned that the indicators relating to the Arrivals Baggage Delivery Process which compose the bulk of the non-compliances, result from the performance of processes under the majority responsibility of the Handlers, and ANA has a reduced influence on the achieved service levels. Because of this, ANA has been working with these entities to promote quality of service improvements to passengers.

ANA sees airport quality of service, where the ASQR is included, and its adaptation to the needs of the different airline and passenger segments, as a key airport competitiveness factor. Because of that, ANA's strategy in terms of quality of service will continue to focus on systematically monitoring and analyzing the performance indicators and designing service solutions which are adequate for increasing the value proposition to airlines, passengers and business partners.

Following the validation by ANAC of the methodology for calculating penalties from 2015, ANA has assessed the individual amounts of airline in the proportion of regulated revenues amounts at each airport in each of the quarters, in accordance with Annex 7, Point 10.

In order to operationalize this return, the following procedures will be applied:

• Publication on the ANA website of all clients with funds to be received by the airport;

• The credit notes will be, like the billing process, carried out by each airport, and at that level, per client;

• In the case of clients with a current account, the credit notes will be reduced to the account balance of each client;

• There is the possibility of cash reimbursement in the company's treasury for cash clients;

• After a period of one year from the date of publication of the return, ANA will report to ANAC the clients who do not claim the credit, and the respective amounts;

• A minimum return value of € 100 is foreseen in the case of a bank transfer option. In the case of a bank transfer, the costs of the transfer shall be borne by the beneficiary.

Please consult the published list of clients for of Lisbon, Porto and Ponta Delgada airports:


Lista Apuramento Penalizações RQSA 2015 Aeroporto de Lisboa_EN



Lista Apuramento Penalizações RQSA 2015 Aeroporto do Porto_EN



Lista Apuramento Penalizações RQSA 2015 Aeroporto de Ponta Delgada_EN

Documents 2018
Airport Infrastructure Availability Q1 2018

Passenger Satisfaction Levels Q1 2018

Technical Note AQSR 2018

Airport Infrastructure Availability Q2 2018

Passenger Satisfaction Levels Q2 2018
Documents 2017
Passenger Satisfaction Levels Q4 2017

Airport Infrastructure Availability Q4 2017

Passenger Satisfaction Levels Q3 2017

Airport Infrastructure Availability Q3 2017

Passenger Satisfaction Levels Q2 2017

Airport Infrastructure Availability Q2 2017

Passenger Satisfaction Levels Q1 2017

Airport Infrastructure Availability Q1 2017

Technical Note AQSR 2017
Documents 2016
Passenger Satisfaction Levels Q4 2016

Airport Infrastructure Availability Q4 2016

Passenger Satisfaction Levels Q3 2016

Airport Infrastructure Availability Q3 2016

Passenger Satisfaction Levels Q2 2016

Airport Infrastructure Availability Q2 2016

Passenger Satisfaction Levels Q1 2016

Airport Infrastructure Availability Q1 2016

Technical Note AQSR
Documents 2015
Airport Infrastructure Availability Q4 2015

Passenger Satisfaction Levels Q4 2015

Passenger Satisfaction Levels Q3 2015

Passenger Satisfaction Levels Q2 2015

Passenger Satisfaction Levels Q1 2015

Airport Infrastructure Availability Q3 2015

Airport Infrastructure Availability Q2 2015

Airport Infrastructure Availability Q1 2015
Documents 2014
Passenger Satisfaction Levels Q4 2014

Airport Infrastructure Availability Q4 2014
Business ANA - Aeroportos de Portugal